Hi, I'm Wendy and in live in Spain but the "S" is silent. Or so the joke went…
I live hard, and I play hard. As a result, I often find myself with chronic discomfort. One of the best things I have found to help with that is CBD/Hemp. I found LivLabs Hemp products to be the most effective at balancing my system and being able to function better.
I love the fact I can get on a zoom call and can ask the doctors questions. They are very knowledgeable about the products and they have seen amazing results.
If exploring practical ideas, methods and concepts which can be used to promote positive health and wellbeing for you, your families and those in your professional life is something you are interested in we have zoom calls weekly.
I'm so in love with Liv Planet Hemp that I am saving up for a laser to add to my Massage ministry. I've really enjoyed learning about it and how it has helped others feel better so they can live with less discomfort. You can learn too Wednesdays at 12pm or 6pm, or Thursdays at 8pm through this link.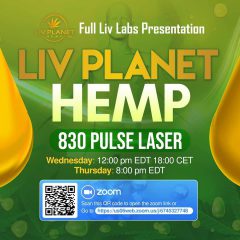 If you want to learn more about the cold laser itself you can go to http://www.Smartlaserlabs.com.
Check out this short video and tell me if there's anything I can help you with!