Can you imagine not ever being able to eat red meat again because of a tick bite? That is my reality and many others that have gotten bit by ticks.
This podcast and it explains what I go through with Alpha-gal and things I need to watch out for. Listen with me and reach out and let me know your thoughts. On my Facebook group page Thriving with Alphagalgardengirl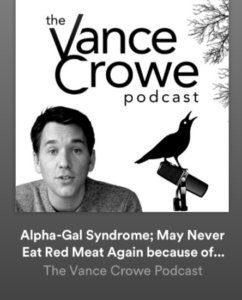 Debbie Nichols and Caroline Matthis suffer from a disease known as Alpha Gal Syndrome, a tick-borne illness that makes the effected person allergic to mammal meat and animal products. During their conversation with host Vance Crowe the three talk about living with Alpha Gal Syndrome, how to diagnose the disease, the person that suggested giving Alpha Gal to people to stop animal agriculture and the mourning that happened when they lost the ability to eat meat.
Two Alpha Gals Instagram: [https://www.instagram.com/twoalphagals/](https://www.instagram.com/twoalphagals/)
Chapters —
0:00 Start
3:38 Interview Beginning
4:48 What is it like to have alpha-gal
8:43 How do you know if you have alpha-gal
11:58 Alpha-gal symptoms
17:39 How does a tick bite cause alpha-gal?
27:50 Can alpha-gal go away?
38:10 Why can't you drink some wines with alpha-gal?
49:45 How to get tested for alpha-gal
53:02 Psychology of giving up food
Vance Crowe Podcast Website: https://www.vancecrowe.com/podcast
ABOUT THE VANCE CROWE PODCAST —
Vance Crowe interviews people with an expertise that you would want to know about, but might not think to ask. He prompts his guests to think about their work in novel ways, discusses how it applies to regular people and has fun sharing stories and experiences.